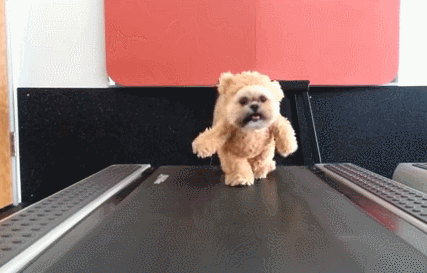 You read it right. There is also a dog treadmill for your pet dogs and it can be considered one of the coolest ideas and most effective way for your beloved pet to exercise.  Dogs need to exercise in order to keep them healthy, in shape and less agitated. However, pet owners don't always have the time to do it daily or even frequently. Dog treadmills are a wonderful solution if you do not have time to to walk the dog or when the weather does not permit you to exercise your dog outside.
What it Does and Reasons to Use it
Dog treadmills work similarly like human treadmills and some of the best reasons to use one are the following:
Additional exercise method for pet dogs
Safe indoor workout for the dogs as there is no traffic, curbs, or other outside stress factors that may cause the dog to become agitated.
I was first interested in dog treadmills because I was tired of feeling guilty for not taking my dog out enough times for exercise but lets face it, sometimes life gets in the way. I also live in an area where the weather most times does not permit for me to go outside with my dogs.
Here is my dog treadmill review, I hope you find it helpful
1. Go Pet Petrun Pr700 Dog Treadmill Indoor Exercise / Fitness Kit – for Dogs up to 44 Pounds
If you want a doggie treadmill for dogs weighing below 44 pounds, this is the right one for you.Product Features
Features included in this treadmill are as follows:
It has the lowest running treadmill platform; thus, making it easy for your small dog to climb up and walk or run.
It utilizes a silent motor system; hence, it is quiet when it is running.
It has an emergency stop.
It can be operated manually or via remote control.

Pros

Because of the height factor, it is very dog friendly; so dog owners will not find it difficult for their small pets to climb aboard this dog treadmill.

Cons

Unfortunately, it can only accommodate dogs weighing not more than 44 pounds.
2. Domestic Pet Dogpacer Dog Treadmill Interaction
If you want a dog treadmill for smaller dogs and at the same time can work well, then this is the recommended dog treadmill.
Product Features

It is fold-able;  which helps with storage if you have limited space.
It has a low treadmill platform for running so smaller breed of pets will find it easy to climb or get off.
Can be operated by remote control or manually.
Silent driving mechanism that prevents dogs from being annoyed with unwanted noise.

Pros

Easy set up and operation.
Auto stop; thus, you can stop it instantly for any reason.

Cons

It is somewhat loud, in case your dog is irritated by loud sounds.
 3. Domestic Pet Dog Treadmills Gopet Treadwheel for Home Dogs
For pet owners who own dogs that weigh 25 pounds and below, this is the product for you.
Product Features

Product package includes training door and comfortable surfaced mats.
Leash free tread wheel; so dogs can exercise according to their own natural pace.
Unlimited running or walking surface; making it very ideal for very active dogs.

Pros

Easy to assemble and space friendly
No escaping mechanism for the dog

Cons

Might be stressful for the dog due to its unlimited walking or running time.
Conclusion
I have had my dog treadmill for about 3 months now, I went ahead and bought Domestic Pet Dogpacer Dog Treadmill Interaction and I am very happy with it and so is my dog.  I love that the treadmill has a manual incline which I sometimes use for my dog. Last week was super hot here, some days were over 100 F and I was grateful not to have to be outside when it is that hot! My dog usually runs/walks on the treadmill for about 30 minutes. It is definitely worth every penny.
.