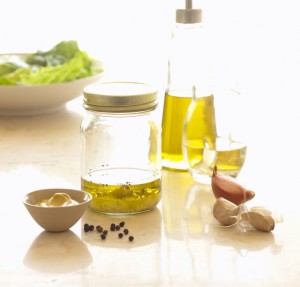 Eating healthy doesn't mean that you have to give up eating food that is flavorful and delicious.  Salads are an easy way to stay lean and get lots of nutrients and minerals.  While eating a salad is extremely healthy, using store bought dressings can turn a healthy meal into a very unhealthy meal. The truth is that,  the thick, creamy dressing you may just have just smothered your salad with is packed full of sugar, artificial flavors, preservatives and trans fat. What is even worse is that in most cases, one serving of a dressing salad has more than one calories than a sneakers candy bar!  We highly recommend ditching the store-bought dressing and start making your own.
Not only will making your own dressing save you money, but you won't have to worry about the calories they contain because many homemade dressings are less than 50 calories per serving.
Try one of these four homemade salad dressing recipes and you will never go back to buying salad dressings again!
1.Lemon-Garlic Dressing
 In a bowl, simply whisk together 3 tablespoons lemon juice, ⅓ cup olive oil, 1 small crushed garlic clove and ¼ teaspoon salt and ¼ teaspoon of freshly ground pepper. 
2.  Balsamic Vinaigrette
In a bowl, whisk together 1 teaspoon honey, ¼ cup of  balsamic vinegar, 1 teaspoon of dijon mustard, 1 clove garlic and 1 minced shallot. While whisking, slowly pour in  ½ cup of olive oil. Once the liquid is emulsified, add ¼ teaspoon pepper and  ½ teaspoon salt for seasoning.
3. White Wine Vinaigrette
In a bowl, whisk together  ⅓ cup white wine vinegar,  1 teaspoon honey, ¼ teaspoon kosher salt and ¼ teaspoon pepper. While whisking, slowly pour in ¾ cup olive oil.
4. Carrot-Ginger Dressing
Blend together 1 shallot, 1 cup sliced carrots, ¼ cup white miso, 1 2-inch piece of ginger, 2 tablespoons rice vinegar and ¾ teaspoon toasted sesame oil in blender until all ingredients are well blended. Add ⅓ cup vegetable oil into blender and blend until mixture is smooth. If dressing is too thick, add no more than 2 tablespoons water to thin out.
Remember unused dressing will keep for up to two weeks in the refrigerator.
Any of these four recipes will not only allow you to enjoy a delicious salad, but it will keep you safe from consuming lots of calories found in store-bought salad dressings.