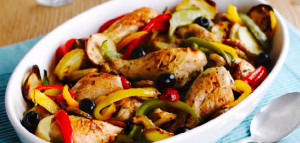 The Mediterranean diet recipes are rich in fats that come from olive oil and nuts, fact which makes them healthier than any other diet based on a low-fat intake. The traditional Mediterranean foods reduce cholesterol, blood pressure and blood sugar levels. People who live in Spain, Greece and other Mediterranean countries have healthier skin that maintains its elasticity until older ages. They are also full of vitality thanks to eating chicken, fish, vegetables and cheese. Here are 6 recipes that are easy to prepare and too delicious to avoid.
Quinoa Salad
The quinoa salad is among the Mediterranean diet recipes that are easy to prepare and which can be combined with chicken. It is ready in 30 minutes and it is really simple to cook. The needed ingredients are garlic, quinoa, bouillon, green bell pepper, olives, olive oil, feta cheese, fresh parsley and chives, salt and lemon juice. First you must prepare the quinoa along with the garlic and then add all the other ingredients to the mix before serving. You could grill the chicken if you decide to add it to this combination.
Mediterranean Fish
Fish is a very important ingredient in most Mediterranean diet recipes. It can be cooked using various techniques, but putting it in the oven is probably the easiest one. In order to add flavor to fish, you need onions, tomatoes, olive oil, capers and lemon juice. Mix all of them and pour them on the fish before baking. The type of fish you pick is not important. All types are really healthy and rich in good fats and vitamins.
Barley Salad
Since most Mediterranean diet recipes are based on salads, you cannot miss the barley salad. As for ingredients, you need barley, balsamic vinegar, cilantro, dried tomatoes, garlic, black olives and olive oil. As you notice, garlic and olive oil are basic foods used for cooking almost any dish. First you have to cook the barley and puree the others before mixing.
Greek Salad
The Greek salad is fantastic to eat along with barbecue. You only need 10 minutes to prepare it and the following ingredients: cucumbers, feta cheese, black olives, tomatoes, red onion and olive oil. Chop all, mix them and keep them in the fridge until the barbecue is done.
Mediterranean Chicken
Sautéed chicken is so tasty and especially unmistakable if simmered in a Mediterranean sauce. The sauce should contain olive oil, white wine, green and red peppers,
fresh thyme and basil, kalamata olives, parsley, garlic, onion and tomatoes. Sauté the chicken together with the wine and then add the other ingredients.
Insalata Caprese
This might be the simplest of all Mediterranean diet recipes even if it has a name that's hard to pronounce. What you need is fresh mozzarella, fresh tomatoes and basil. Slice the tomatoes and the mozzarella and add them on a plate together with basil and a touch of salt and pepper. Voila! Tasty and healthy as well!